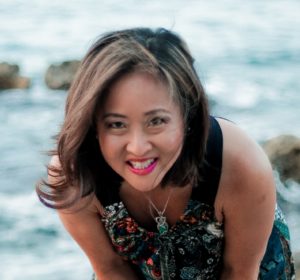 My life changed after watching The Secret. I especially loved the part about gratitude rocks, carrying a rock around to remind you of what you're grateful for.
Soon after I was finding an abundance of heart-shaped rocks on the beach and, most surprisingly, in my purse. Hidden under piles of purse clutter, I discovered a beautiful heart-shaped purple Goldstone crystal I'd bought years ago. This crystal was unique, as it had a natural "smile" showing on one side of it. It's smooth and shimmery surface had always lifted my spirits when held, but had become lost and buried in the depth of my purse. I did not know at the time that this would be my first "gratitude rock!"
I set the intention to find more heart-shaped crystals like this one for under $5, as I wanted to gift these to my friends. Within a week I had manifested a supplier of more heart-shaped crystals (like Quartz, Tiger's Iron, Lapis, Hematite, …). I began giving these out as "gratitude rocks," as a reminder to people to be grateful for what they currently have, and to not dwell on what's not going right or what they don't currently have.
Today I live each day focusing on gratitude and all things that raise my vibration. I awaken each morning with the intention of adding positive vibrations and love to all I touch and encounter. I go to bed each night knowing I made a "positive" difference and being grateful for the people and experiences from that day!
After leaving the corporate world and visualizing a life of abundance, I became a healer (using Reiki, Healing Touch, crystals, aromatherapy, and musical instruments), life coach, marketing and promotions specialist, and day trader.
As each gratitude rock is unique and beautiful, so too are the unique and beautiful experiences in our lives. These rocks remind me to be grateful and to always look for the positive things in my life.
Life is a wondrous adventure and "gratitude truly rocks!"