Description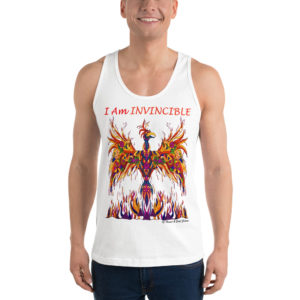 Be as the phoenix, rising above fear, uncertainties, and doubts to be the powerful and invincible self that is your true essence. Arise into your full power. Be as water, fluid and strong, able to change forms to flow into your most powerful essence.
The phoenix represents transformation, a burning away of what no longer serves us, as each release is another step along our spiritual journey to Spirit and to our true selves. This is a process that we each must undergo as our consciousness evolves or acts to manifest our dreams or desires. To evolve and manifest what we desire requires transformation of our egos and who we think we are.
The phoenix symbolizes renewal, as well as metempsychosis (transmigration of the soul), resurrection, and much more. The phoenix represents death and rebirth in its fire.
This unisex tank top boasts a nice drape, which is ideal for layering or dealing with the summer heat. In true American Apparel style, the tank top is extremely smooth and soft, and has reinforced smooth arm and head holes, guaranteeing that this is the comfiest tank top you'll ever own.
• 100% fine jersey (heather colors contain 10% polyester)
• Banded arm and head holes
• Blank products stocked in the US are made in USA
• Blank products stocked in the EU are sourced worldwide